Harold E. Mordt, Sr, November 28, 1928 – November 8, 2023
We are deeply saddened by the passing of Mr. Mordt. Please keep his family in your thoughts and prayers. You may view his obituary here.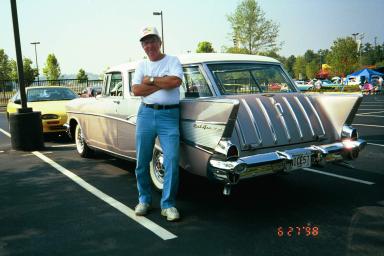 Seen here with his beloved Dusk Pearl 1957 Nomad, Harold Mordt is the club's artist as well as being an Honorary Lifetime Member. Harold was kind enough to give the paintings shown below to the club a few years ago to be auctioned off to raise funds for the club treasury. In addition, Harold has painted other pictures that he gave away at club Christmas parties as "White Elephant" gifts. Needless to say, his gifts were always "taken away" as many times as possible under the White Elephant rules!